iPassword Generator
iPassword Generator is a free, lightweight and portable Windows application designed to create a strong and unique password for each of your applications or online accounts from the keyfile you selected using a technology called Tabula recta( references: Wikipedia ). In addition, you are allowed to encrypt and hide your keyfile inside any other file with the AES-256( Advanced Encryption Standard ) algorithm.
The main difference between iPassword Generator and other password creators is that, the passwords created by it looks like random strings, but they're not. The passwords can be and can only be recreated if you selected the correct keyfile and entered the correct password if it's encrypted, but if you lost the keyfile, no one can retrieve the passwords back.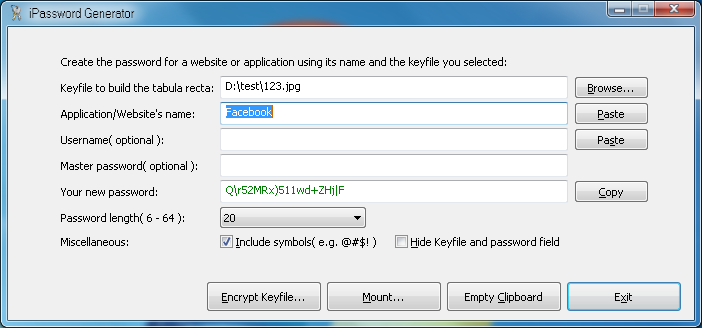 Features
Create strong, secure and unique password which contains symbols, letters and numbers.
Create and store the passwords for all of your accounts including Facebook, Twitter, Paypal, Amazon, Pinterest, Linkedin, etc with a single keyfile.
Customizable password length: from 6 characters to 64 characters.
Encrypt the keyfile with AES-256 algorithm.
The Keyfile can be encrypted and concealed in any file( container ), if the container is a media file in MP3, MP4, FLV, WMV format or an image file in JPG, BMP, ICO format, the container is still playable or viewable after it's appended. This means that, you can hide all of your passwords in a mp3 file and upload it to iCloud, Amazon S3, Dropbox, SkyDrive or Box.net, there's nobody except yourself know this secret.
If you do not trust online password managers such as roboform and lastpass, you can turn the password stored in their database to a new password with this app.
Support drag and drop.
No installation needed.
Download
iPassword Generator works on most 32-bit & 64-bit Windows systems including Window XP, Windows 7 as well as Windows 8.
Download iPassword Generator 1.0 Now( File size: 821KB, MD5 hash string: 4A2534A96F4A528726E047C6E02C3431 )